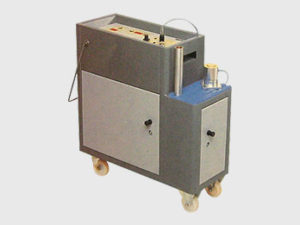 Facilitates Precise Centering of Spindles with Respect to Ring
Wrong Centering due to Fatique, Visual Misjudgements Totally Eliminated
Accuracy to the Tune of 0.025 mm
Specially Designed Trolley for Easy Operations
LED Indications in X and Y Directions on Front Panel
Reduce Peak Tensions, End Breakages, Prematured Wear of Ring & Travellers
Works on Mains or Rechargeable Battery
Result : Improve Quality, Higher Production, Longer Life of Ring and Ring Travellers.
Is Electronic Spindle Centering Expensive & Time Consuming
Yes, of course it is if you ignore the benefits you get over the conventional method of spindle centering.
The conventional method using fiber bush is observed to take about 3 to 4 hours for a ring frame with 476 spindles. The same ring frame, if gauged using a Electronic Spindle Centering Device takes 6 to 8 hours. Let us try to analyze, why and if at all, to what advantage?
After centering, it is also possible to carry out a few checks on spindle and ring-rail. Rotating the spindle manually, and keeping it in different positions, the eccentric movement or a bent spindle can be found out. Moving the ring-rail up and down, the rail play can be detected. This way, 80% of the CMRS results can be achieved. The ATIRA advocated CMRS method is known to need 40 hours of meticulous working.
The sensing probe of the Spindle Centering Device, is fabricated with very good mechanical accuracy. This probe has to be put on each ring individually, in the procedure of gaguing. Therefore, dimensional accuracy in the ring diameter or ovality of ring can be immediately spotted. (e.g. rings of 42mm Di and 1 & 5/8″ Di are many times mixed, which may go unnoticed.)
Unfortunately Spindle Centering Device has no capacity to correct the defects detected by it. However it does prove to be an important aid for one who wants to set right the flaws. And once you attend to them, it may not be necessary to gauge ring frames more frequently. Psychologically, one does not like to notice such defects. But if this mental barrier is overcome, the benefits of using electronic Spindle Centering Device will be appreciable.
The accuracy achieved with electronic Spindle Centering Device is of the order of thousandth part of an inch. This can never be guaranteed in conventional method. With this kind of accuracy, it is needless to say, the end breakages will reduce substantially. Not only that, the spindle speed may be increased by 2 to 3%.
Another advantage of electronic Spindle Centering Device is that it may be carried out in stationary condition (i.e. without running the ring frame), thus saving power costs. However, it is also possible to gauge or check in running condition. So, if a Ring Data Acquistion system is installed; only the particular ring – spindle pair recording more breakages, may be gauged, while the production is undistrubed.
If you club together advantages like less end breakages, increased speed and prolonged gauging schedules, the pay-back period of electronic Spindle Centering Device can be about 3 months, depending on the material and count variations.
So, is electronic Spindle Centering really expensive? And time consuming? Is it really?
Q & A