Cut-to-Length process automation has been our speciality for a long time now. For any cut-to-length application, simply write to us about your application details and we will take care that it is successful.
Wire Forming and Bending/Cutting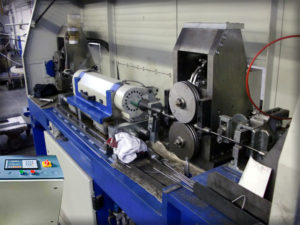 This is yet another example of a cut-to-length application. Here, metallic wires of different thicknesses or gauges are fed in the machine. The wire bunch lies next to the feeder, which does not have the support of an Unwinder AC motor. Here too, servo or stepper motor actuates the feeder to feed an accurate length of wire in the machine. Instead of a cutter, cam operated mechanisms bend and twist the wire such that it takes a desirable shape.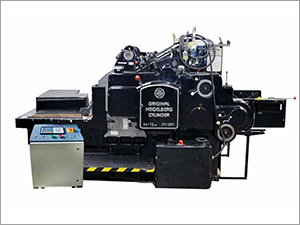 Stepper motors can be very reliably used for Hot Foil stamping applications. This too is a Cut-to-Length process. The Foil is moved by a settable distance by the stepper motor. A relay output directs a roller to transmit the Hot impression on the foil.
Orion-make Hot Foil Stamping Controllers are extremely easy to use on such machines. It comes with multiple foil pull settings so as to provide maximum foil utilization. The controller works on a built-in roll-on technology. With features including counting of total stamps, allowing flexible tuning of motor for suiting different machines an manual control of stepper motors, the system comes with 4 LEDs, back-lit LCD display, membrane keypad with 18 keys MMI and 4 relay outputs and digital inputs. The programs come with a recipe setting of 10 programs, with each program having separate counters, and one can reset separate counters individually.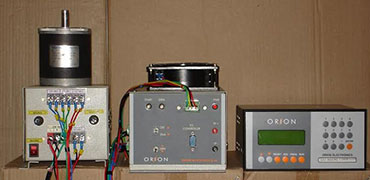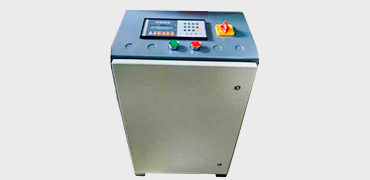 Stepper/Servo Motor Panel unit for your existing mechanical Bag Making Machine.
Convert your Old Mechanically operated Bag Making Machine into Automatic Stepper / Servo driven Bag Making Machine.
Highly customised Model suitable for all & Any Size, Any Make, Bag Making Machine.
Suitable for Plain and Printed Bags.
Cheap and Reliable alternative for new Automatic Bag Making Machine.
Suitable for HM, PP, LDPE, HDPE,HMHDPE,LLDPE & other plastic films.
The Mechanical clutch and brake mechanism of your machinery will be replaced by the Stepper/Servo motion control system which converts your machine into Automatic.
Use of all non-chinese Equipments. Extremely long life of the panel.
For producing your required bags, just to key-in your required bags length to 'Controlller (Motion control system)', the machine will be able to make your required bags length automatically without any manual adjustment.
PhotoSensor for Printed Bags, Variable Frequency Drive for Unwinder & Main Motor can be attached.
Increase in Accuracy and Consistency of the size of Plastic Bags & High production efficiency to save manpower & time.
Systems and Accessories :
For non-alpha Numeric Keypad and reduced I/Os : CTL-L
VFDs
Unwinder circuit for Unwinder, Induction Motor
Imported Servo Motors / Drives with full tuning done on site