Life Science
Liquid handling, spotting and automated dispensing of liquid amounts in the sub-microliter range is an essential step in many production processes as well as in R&D applications. The production of biochips, lateral flow or lab-on-a-chip devices, the printing of microarrays and the fabrication of biosensors all require a precise and reliable handling of very small amounts of fluids.
Microdrop Technologies provides a variety of non-contact micro-dispensing products ideally suited for this demanding application field. High-precision dispensing of volumes in the picoliter and nanoliter range enables the user to print spots or lines and structures of aqueous solutions as well as solvent-based liquids in a wide viscosity range.
Liquid Test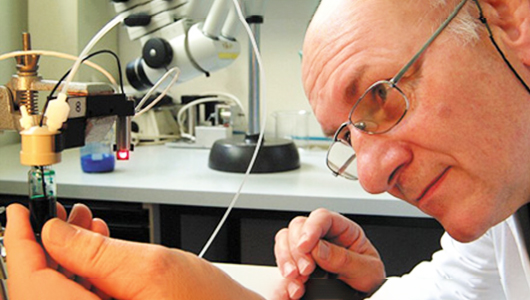 For evaluation of the applicability and capability of the Microdrop Technology a Microdrop Liquid Test is recommended.
This test will investigate the following :
basic dispensing possibility of the fluid
selection of the best dispenser head
configuration performance of the dispensing
process max. / min. dispense frequency
droplet velocity
optimal nozzle diameter
driving parameters of the dispenser head
special characteristics and handling options which need to be considered (e.g. drop shape, light sensitivity)
Application Test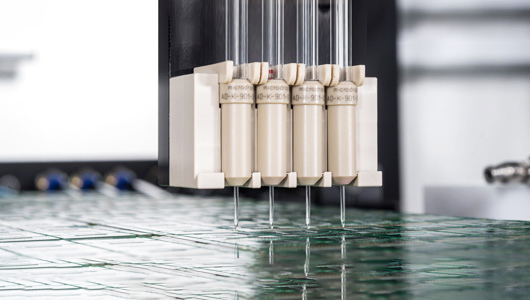 After the Microdrop Liquid Test has proven that the material is dispensable by one of the microdrop products, additional application and prototyping tests may be carried on. The investigations in the Microdrop Lab are aiming at optimal solutions for individual application needs and optimal processes. Here the material is deposited on test substrates or components and the whole process including the interaction between material and substrate is investigated; e.g.:
wetting behavior
drying effect
line spreading
structure building (e.g. line width, thickness, height)
interconnection (e.g. bonding application)
process parameters (e.g. temperature conditions, cycle time, throughput)
The Application Test provides an optimized production process or handling instructions about the investigated application. The dispensing system best fitted for the application will be finally identified.